About us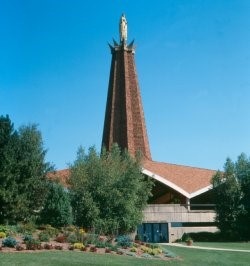 Who We Are
The World Apostolate of Fatima, USA, formerly known as The Blue Army, is a worldwide public association of the faithful responding to the requests that Our Blessed Mother made to three shepherd children in Fatima, Portugal in 1917, to help save souls and bring peace to the world. It promotes Eucharistic prayer and the Rosary, as well as penance, especially the generous acceptance of the duties of our state in life.
Our Gift Shop
The Fatima Gift Shop is located at The National Blue Army Shrine of the Immaculate Heart of Mary in picturesque Warren County, NJ and carries a large array of Religious and Spiritual Gifts, many of them directly from Fatima, Portugal.  Our online Gift Shop carries many of the same items, but if you can't find what you are looking for, please feel free to call our Gift Shop toll free at 1-866-513-1917.  We are open 7-days a week from 10:00 AM – 4:00 PM Eastern Time.  Your purchases help to support Our Lady's Apostolate.
The Shrine
The National Blue Army Shrine of the Immaculate Heart of Mary is located on 150 acres and rises over the lovely Muscontecong Valley as an architectural embodiment of the faith and devotion of pilgrims to Our Lady.  The Shrine hosts approximately 50,000 pilgrims annually. To learn more about us, please visit our web site at:
 World Apostolate of Fatima, USA / Our Lady's Blue Army
What is a Public Association of the Faithful?
Only a public association can receive a mission to teach Christian doctrine in the name of the Church, promote public worship or pursue a purpose which by nature is reserved to ecclesiastical authority (canon 301 §1). As a public association, the members act in the name of the Church when fulfilling the purpose of the association.